The Modern CFO: Taking Leadership of an ERP Project
by Darren Talley on 9/13/23 5:33 PM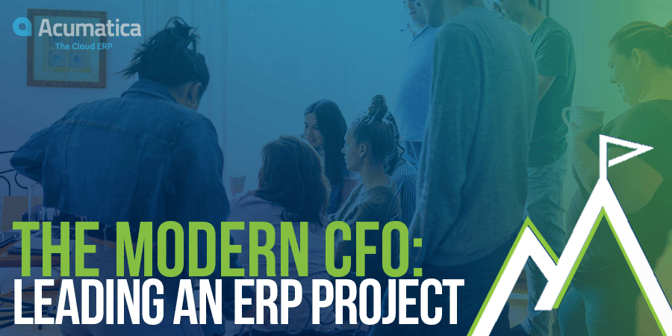 When it comes to identifying the right ERP software for an organization, the CFO is typically the driver behind the wheel during the selection of the software, but is also an integral piece once the ERP implementation project has begun.
There's a lot to consider, and Acumatica has put together the Modern CFO ERP Buyer's Guide to support financial leaders that feel their companies are ready for digital disruption. Just like with any major business effort a team is needed for the ultimate steps to success of the project.
Let's take a look at the role of the CFO and the ERP project team needed for a successful implementation.
Your Role as an Executive Sponsor
Streamlining financial processes with operations is something the modern CFO handles quite well. Those who are focused on leading a truly intelligent enterprise must extend digital transformation from the tried-and-true back-office operations through the customer experience. There's a true mandate for CFOs to take the lead.
It's come to be expected that businesses want CFOs and the finance function to provide real-time, data-enabled decisions support. According to a Deloitte Predictions report, the future of finance centers soundly around the advancement of apps, automation, and digital disruption.
0Only two years ago, 78% of CFOs considered proficiency in Excel as the most important skill for their teams, but a mere 5% feel the same today, while only 7% of CFOs list Excel as an important skill for new hires, according to a survey by Adaptive Insights. There has been an obvious shift from traditional methods toward innovative technology.
Why Every Project Needs a Champion
Cloud ERP projects are a taxing task — one that requires a leader to see it through every step of the way. The CFO is a natural for this role, as accounting software is likely one of the first tools rolled out with an ERP implementation.
A CFO heading such a challenge should work directly with their team to assess what is working, as well as what's not. Workflow can improve when a team is in better communication. This is also true for various other departments throughout an organization. An ERP system reaches beyond just one silo of the company, tying many departments together; information and data is readily available to users, who have a better overview due to easy-to-digest dashboards with captivating visuals and charts.
Getting early buy-in from other members of the C-Suite as well as department heads throughout the organization can greatly help a CFO to unify the greater team and get the support that is needed to fund the ERP project through implementation, and grow it into maturity.
The Many Roles in ERP Implementations
The CFO can work diligently to have a successful ERP implementation, but without a solid support team, some daunting challenges will likely occur. It's a big job; nearly 75% of implementation projects fail to return the valued promise.
There are a lot of decisions to be made, and despite big data, a project leader is on shaky ground. The best tactic to beat the odds, is to assemble a steadfast A-team of top performers, who actually have time to give to the project. Communication, input, and leadership from a selection of employees across departments and reporting structures can ensure the workplace is adequately represented and informed.
Include top performers from all areas of the business — IT, marketing, engineering, materials, production, finance, customer service, etc.
Notable members of the implementation team should include:
Executive Sponsor: Providing the overall vision, this role keeps the team moving forward and works to resolve disputes when they occur.
Project Leader: This person understands the business and is skilled in management and a solid communicator. This role keeps the team organized and on track, chairing status meetings and coordinating between the various sectors of the business and tasks.
User Community and Team Leaders: This is a selection of people from various departments who work with other end users, taking in advice, as well as helping them to work through concerns.
The Communications Team: This team will keep project team members and leaders informed in regard to milestones, involvement, etc.
Learn more about how to form an effective internal team.
Get Started Today
Businesses ready to innovate for success will benefit from a cloud-based ERP system. Contact us to gain actionable insights, receive a free software consultation. or just to pick our brains.