The ERP Implementation Process: the Steps to Success
by Janet Talley on 9/6/23 5:19 PM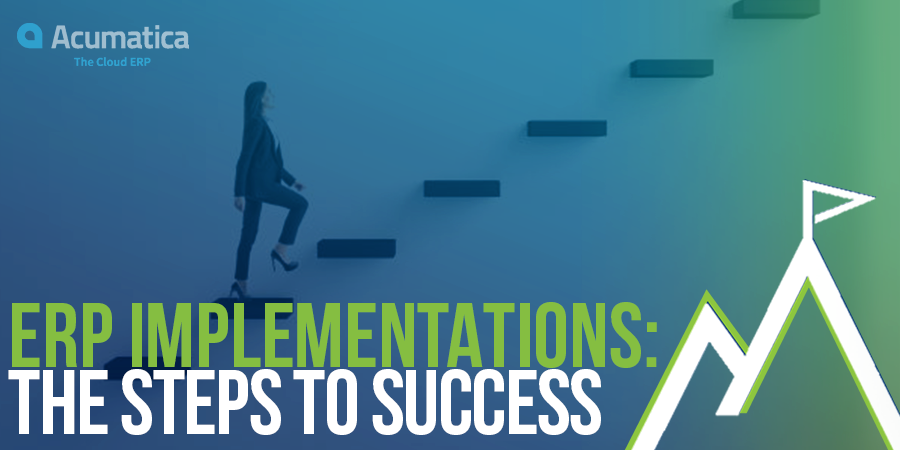 Once the decision has been made to implement a new ERP or financial software system, the implementation process begins.
1) Implementation Kickoff
The first step is the kick-off meeting, where you will determine the features to be implemented, set goals for the project, and discuss strategies for success. This meeting also involves defining the implementation team, both on your end and from the partner or vendor side. Together, you will create an implementation timeline that works backwards from your Go Live date.
2) Workflow Design
Workflow design is a crucial step in the implementation process. During this stage, you and your VAR partner will determine how your company will use and implement the system. This may involve several strategy meetings, where your partner will assist you in documenting workflows for training purposes. Modern ERP systems offer various options for task implementation, allowing you to determine the most efficient processes that will produce the desired outcomes.
3) Setup
The setup phase typically involves consultants from the partner or vendor, as well as your team members. The project lead will organize the setup process, determining who will be involved in each area, and key functional users will provide feedback to the consultants on setup decisions. This phase also includes workflow design, which is crucial for determining how your organization will use the software. It's important to document these workflows, as they will be used by your ERP implementation team for training purposes.
4) Customizations & Integrations
If any customization or integrations are required, they should be implemented before testing and training begin. Multiple users should check these areas to ensure they work as expected, avoiding any surprises or errors when you go live. Once the system is set up and workflows have been designed, the partner or vendor should use these workflows to train individual users or groups on how to perform their jobs.
5) Training
Training is an essential part of the implementation process. Most modern ERP and accounting systems provide detailed online manuals, and partners often offer additional documentation during the implementation. Some web-based systems even allow you to document your workflows directly in the software and embed videos to provide "how-to" feedback to users.
6) User Acceptance Training
After users have been trained, it's crucial to allow them a few weeks to work in the test environment. While running parallel systems is no longer common, entering a few daily transactions in the new system can help users become comfortable and identify any issues or learning curves.
7) Data Importing
Data importing is another important step in the implementation process. Your partner will assist you in migrating data from your old system to the new one. This typically includes importing Chart of Accounts, Vendors, Customers, Assets, Inventory, Open Bills, Invoices, Cash Transactions, Sales Orders, Purchase Orders, and more. Additionally, at least two years of general ledger monthly account balance history should be imported for comparative financial reporting.
8) Go Live
Finally, it's time to go live. For a smooth transition, we recommend that users finish entering data into the "old" system on a Friday afternoon, with the intention of pushing the metaphorical button to bring all that data into the new system on Monday morning. The partner or vendor should have consultants readily available to assist users as they get comfortable using the new system. It's common for users to have additional questions as they perform day-to-day operations in the new system, but with proper training and user acceptance testing, the transition should be seamless, resulting in a successful ERP implementation.
At Milestone Information Solutions, we have the experience and expertise to guide you through a successful implementation with minimal challenges or attrition. Learn more about working with Milestone; contact us today.